Calameo is a free digital publishing platform for marketers, teachers and designers to publish and share elegant online magazines, brochures, presentations and more. Once you upload your PDF file, you will get an interactive page flipping eBook. You can share the direct link with friends, embed it into website page, or share it directly to social channels. It has been a great tool for creating branding brochure with customers, sharing presentation with students online, presenting shopping catalog online, and more.
How to publish magazine in Calameo
1. Upload your PDF document to Calameo
After you create an account in Calameo, click the "publish "buttom, then you will go to the upload page. Here you drag your PDF into a box displayed in the middle of the page, the conversion will begin. Within a very short time, the Calameo epublishing engine will convert your pdf document into a nice and easy to peruse flip online magazine.
2. Edit the info of your magazine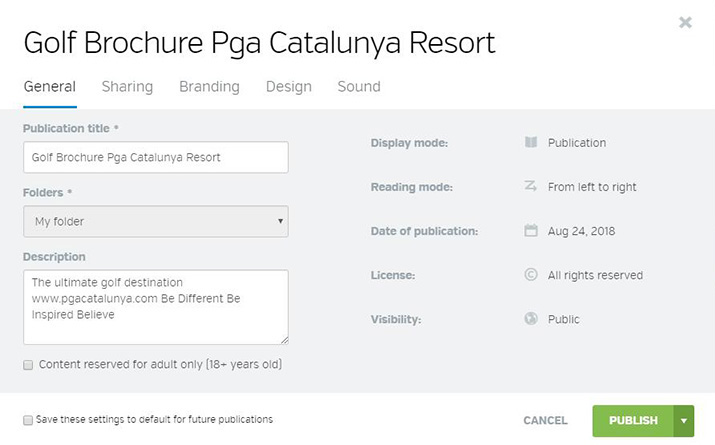 After the conversion is finished, you can edit the details of your uploaded magazine like the title and description. These meta info can help your magazine ranks better in search engine like Google, Bing and Yahoo, and attract more readers online. You are allowed to choose a theme for your issue, custom the background image and add brand logo that will boost your brand marketing.
3. Enrich your magazine with multimedia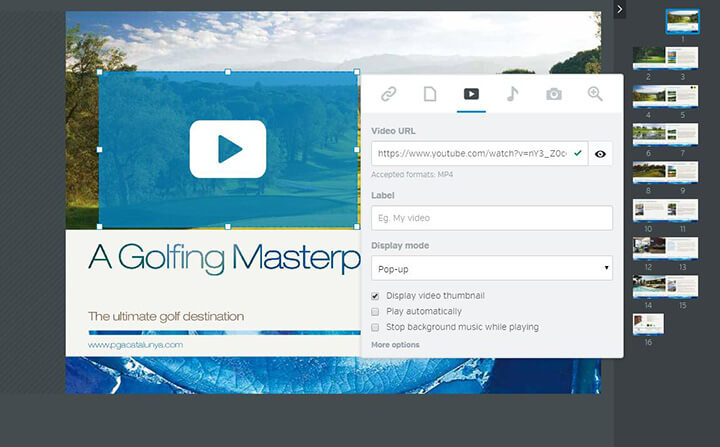 With the help of Calameo Editor, you can create interactive reading experience easiyly. You are allowed to enrich your magazine with rich media, such as YouTube video, audio, images, hyperlinks and more. Just drag and drop the element to book page, you can bring your publication to the next level.
4. Share your magazine to social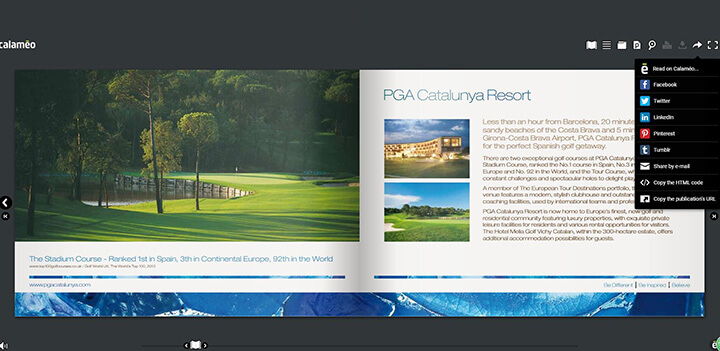 If you are satisfied with your magazine, you can share it with readers and to let the world know about your great new publication. The easiest way to do this, is sharing the flipbook on social media. Just click the share button in the viewer, you can connect your magazine with millions of readers on Facebook, Twitter, Pintest and other social channels.
Benefits of Calameo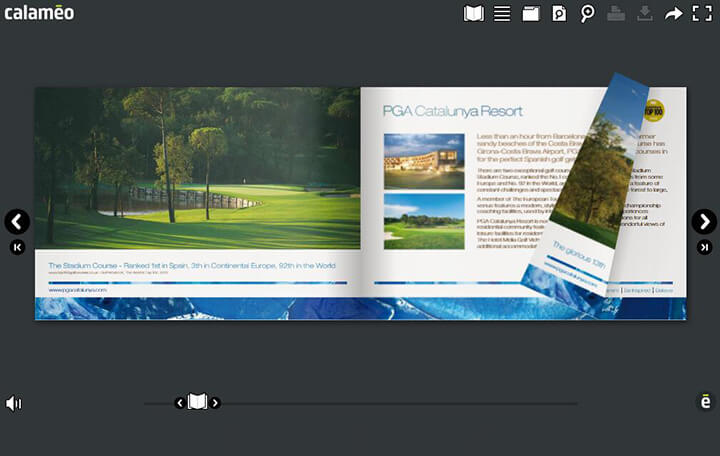 Calameo digital publishing solution is web-based software that allows you to make interactive digital magazine & catalog with a couple of clicks. No download is needed, you can handle everything in cloud.
Quick – Calameo offers a "real time conversion". You can turn PDF in flipbook in minutes. After that, you can change the viewer, add background images, or embed videos and images in Online Editor. Once the publication is published, you embed it on your website and share it online immediately!
Easy – Calameo team of engineers designed the software to be user friendly and intuitive! You'll be surprised at just how easy it is to create interactive digital magazine that your readers can enjoy and interact with.
Affordable – Calameo is a cost-effective digital publishing platform for all publishers. Even you are a free user, you can upload a mass of PDF document. For some advanced functions, include add video, audio, custom background, all these features are accessible for free users. So just create your Calameo account and publish your publications now!